I'm making progress now and can see the end in sight ... honest! Actually she's done, it's just that swirly thing and the beads to do and she's finished! Thanks to all that's commented on her, your comments really are encouraging.
Take a look.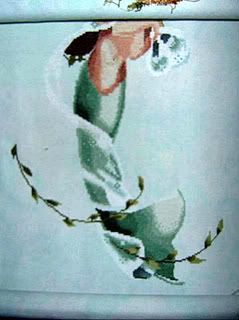 Bec hasn't been well over the weekend, we took her bowling and she was great until she got hot then was sick. It's the iron tablets that's doing it, so I phoned the surgery and asked if she could have gentler ones - the rottweiller of a receptionist (yep, every surgery has one) wanted to know the ins and out of a cat's bum before she'd talk to the doctor. I wish I'd just made the appointment and went to see one of them but, me trying to be thoughtful thought it would save an appointment for someone else. Anyway, she eventually gave in and arranged for a new script. So over she went for it, called into the chemist and walked back to my mil's. She was reading the bottle and realised that they had expired! March 2008!!! She phoned me for advice and I told her to get straight back over there and explain and tell them that you want a fresh batch. She overheard them talking in the back and saying that they've been dishing them out all week!! Surely as a duty of care they are going to have to recall all those scripts or people are going to be ill. Thankfully Bec hadn't taken any.
Work is as mental as anything (weren't they an 80's band??) although we are now back up to full speed, sort of - we have a temporary building surveyor and the voids administrator is off sick, it still feels like we have loads of staff here - a lot different from August when it was just me and one other and when he went out I was Billy Nomates (sob!)
September feels like everything is back the way it should be somehow. The kids are back in school and settling into a routine, the roads are a lot busier in the morning with the school run, holidays are finished and there's a lull before Christmas stitching/knitting and shopping starts. I love it!