I'm finally on the tail! I have to be totally honest with you and say that I haven't enjoyed stitching her at all which is unusual for me as I love stitching mermaids. I'm hating the swirly thing that's wrapped around her too!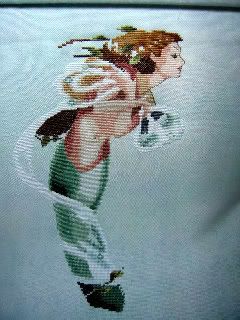 Deep down I know that when she's done and I can see both her and Queen Mermaid together, they'll look stunning as I think they'll really compliment one another. She's just never been my favourite mermaid - that would be Mermaid of the Pearls who shimmers in my bathroom!
I'm hoping to get her done by the end of August - mind you I've been saying that since around March, heh heh! Considering Queen Mermaid only took me 6 weeks, this one has really bombed me out, taking nearly a year so far.
After she's done I'm going to have to start (and finish) Passione Ricamo's Country Sunset, and I'm really looking forward to that ... NOT. But it's my mother's Christmas present so I'll really need some encouragement to keep on track with that one. Hint, hint!
I've listed some 2008 goals on
Stitch Direct's
forum, and so far I have achieved the grand finish of .... NONE!