Yesterday after much phaffing around we decided to go out for the afternoon, I wasn't too keen seeing how Bec was really tired (she'd had several nosebleeds) but His Nibs decided that a bit of fresh air might do her good, so we decided to go to the National Botanical Gardens (link up there, in the title!)
I think we may have gone at the wrong time because the only thing out was tulips (and even they were dying back a bit, sigh ...) Lovely big lettuces though. As it was MayDay they had children maypole dancing - I have no idea why, but this really creeps me out, I'm sure it has something to do with "The Wicker Man" but there you go. Anyway, what we really enjoyed was The Quack Pack (some cracking photos, don't you think?!) The sheepdog was so good herding a bunch of ducks in and out of some carefully placed kids, through tunnels and finally into a pen, very different and extremely amusing ...
Bec (as I anticipated wasn't well, she nearly fainted in the giant glasshouse and then had a heavy nosebleed as we were going) but she said she really enjoyed it as she loves gardening as much as me. Before you all go there, she's going to be a meterologist not the second Charlie Dimmock ....
Before I go, many thanks to all who commented and welcomed me back into the fold of the cross stitching world, it really inspired me to keep on and just to prove it, look!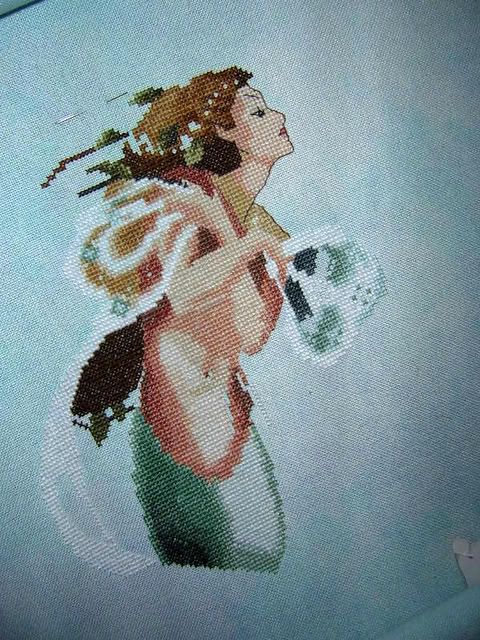 I apologise for her being on a squiff (it's not you, it's me!)