I really must get back into the habit of blogging more, I think of things and remind myself to put it in the blog, but never actually get around to it. I'm sure it was because of the run up to Christmas and not having enough time to do everything that sort of did it. But I'm here now and looking forward to blogging much more regularly.

Had a lovely Christmas, very quiet seeing as I somehow managed to pick up a head cold on Boxing Day. I was all geared up to crack on with some stitching but just didn't feel up to it. I did however start planning my vegetable plot. I had some lovely gardening books for Christmas from my parents and my thoughts having been running from "I really want to grow this," to "Oh my God, how can I possibly imagine for one moment that I can actually grow anything?" Time will tell ...

My cat, Jasper is now able to go out and about after I found out that the woman who was determined to steal him from me is now in hospital and won't be returning to her house as she is too frail (she had 4 cats of her own at the time). Anyway, that story is in another post if you want to read up on it.

Anyway, he is absolutely revelling in his new found freedom and is enjoying supervising me whilst digging compost and manure into the new vegetable plot as well as exploring and visiting new places. He doesn't mind the rain as he knows that when he comes in looking like a drowned rat, he'll have a good towel rub and a meal waiting for him when he comes in. Not sure about hailstones though, we've just had a good shower of them and there's no sign of him yet ....

Had plenty of stitchy and knitty stuff for Christmas, I was in the
Stitch Direct
Secret Santa and received a lovely
Just Nan
chart together with the fabric to go with it. My best friend also gave me some HAED charts, fabric, threads and krenik to go with them so I'm all set to start whenever I feel like it. I don't know about you but I love to have "a kit" like that. Everything you need, all freshly bought and just waiting for the first stitch to go in - nothing beats it. I also had a couple more Just Nan charts, one from Gary which was the
2007 Christmas Biscornu
and one from Sue called
Wildflower Wishes
(both supplied with fabric and embellishments - how lucky can one get?)

He also bought me three sock knitting books,
Sensational Knitted Socks
,
More Sensational Socks
and
Favourite Socks
well ok, I ordered them and he paid, but still ...

I'm going to try and knit a pair a month, and have already started this month's. Not much to see yet, but they'll be a sort of cable effect when done. I bought the yarn from Web of Wool, it's hand-dyed and came as a hank. I absolutely hate winding yarn with a passion, but bit the bullet and cracked on. Thankfully it didn't knot up much and I didn't have too much of a time getting it done.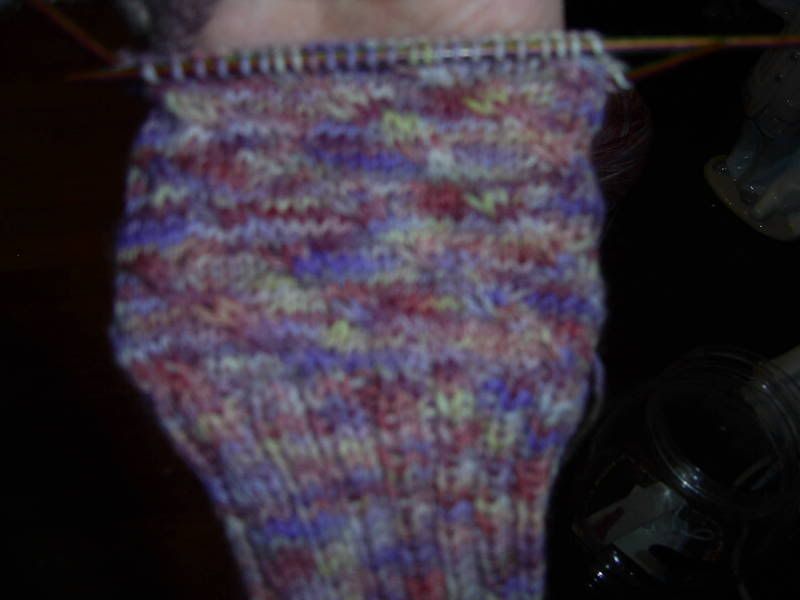 If you look carefully, you'll see the cable pattern, but I don't think you'll really see the full effect until I've knitted some more (or even until I finish) but trust me, they are really pretty.