Happy Birthday to meeeeeeeeeee
Happy Birthday to meeeeeeeeeee
Happy Birthday dear Nicolaaaaaaaaaaa,
Happy Birthday to meeeeeeeeeee!
Had some lovely stitchy presents from my dear friends Sue and Claire.
Sue actually designed and made this herself and has been teasing me for the past six months (at least) about it. She kept texting me to say that she was working on my present, and that she hoped it would turn out alright, and how much I'd laugh when I saw it. All very mind boggling.
Anyway, here's the finished project ...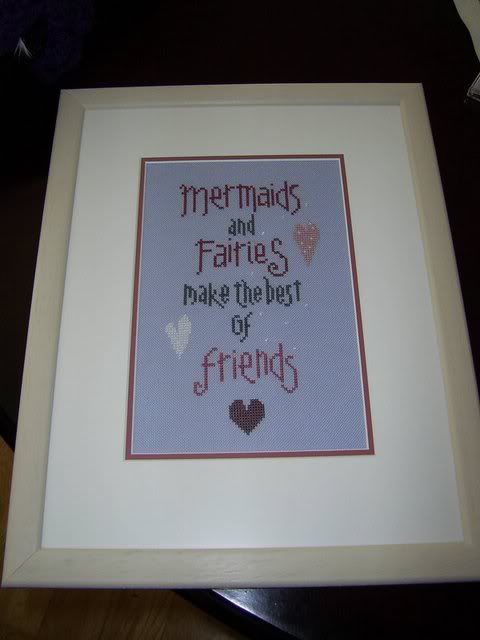 (She's a fairy nut almost as much as I'm a mermaid nut ...)
Claire made me this gorgeous little design, which I think is absolutely adorable ...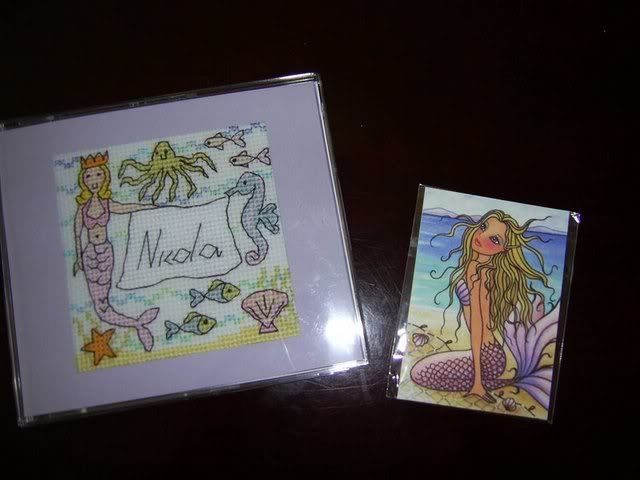 The Nadia Tate ACEO is a first edition (01/50) Fishnet Mermaid - I now have four in my collection and love every one of them.
My nutty friend, Rosie always writes a story about me for my birthday and she came up trumps again this year, she has such a wicked sense of humour, you can read and laugh at her stories until tears run down your face, it's such a shame that she lives in the USA and I'm over here in the UK because I know we'd have a blast when we met up. Someday ....
Last night Bec and I went to see Shakespeare's "As you like it" in the grounds of Oystermouth Castle. We donned our thick winter clothes together with blankets to wrap around us and took hot drinks with us, sat on deckchairs and watched the play. All very good but I didn't have a clue what it was about! I'm still clueless this morning ...
After all the bad weather we've been having lately (Sue and Claire are in Crete and Gran Canaria respectively, so don't really give a damn what the weather is doing over here, heh heh heh) I thought I'd post a pic of Jasper following the sun around the room last week ...