Thank you so much for my lovely birthday wishes and kind words about my presents, they were all appreciated. I had a lovely birthday, we ate chips on the beach followed by Joe's Ice Cream which is the local delicacy around here - lush is an understatement ... yesterday Bec and I went to the cinema to see Evan Almighty which was mighty funny actually, we both enjoyed very much!

Here's week 2 of Queen Mermaid ...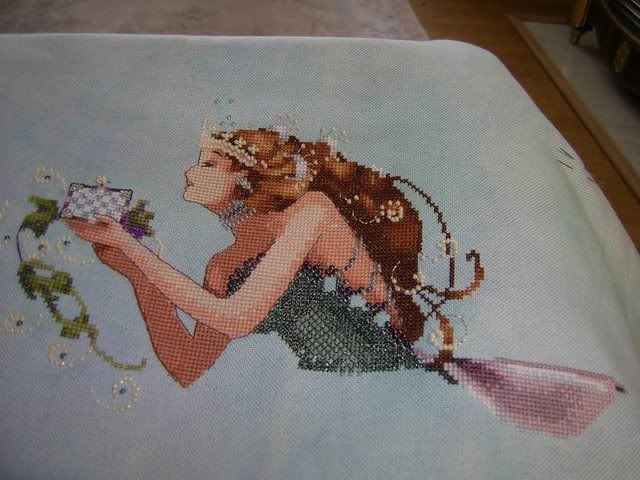 She's coming along nicely and I'm really enjoying stitching her. I had a problem with the qsnaps though, I put some tissue paper between the beads and the qsnaps but when I took them off, it had pulled the fabric so taut that the beads were loose and out of shape on the fabric. I've pulled the fabric back into shape as best I can and it looks okay, if I'm still not happy I'll restitch the beads again. No biggie.
Yesterday I picked up Middy from the framers. She knows I always call early for them, but she was late opening up yesterday (for a purpose) so after waiting nearly three quarters of an hour in the pouring rain, I gave up and drove home. She phoned later on that morning to say that she was open and to call down, she gave me a great discount for messing me around and I'm thrilled with the results!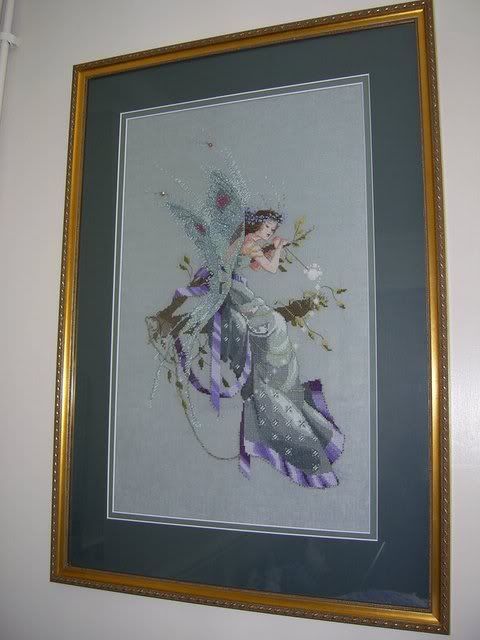 She's framed the same way as Titania as eventually they'll hang together.
Once again, thanks to everyone who wished me a happy birthday, I really loved reading your comments!