It's been ages since I've last blogged and can only redeem myself by saying that I've been working really hard on Country Winter to get her finished.
Here she is ...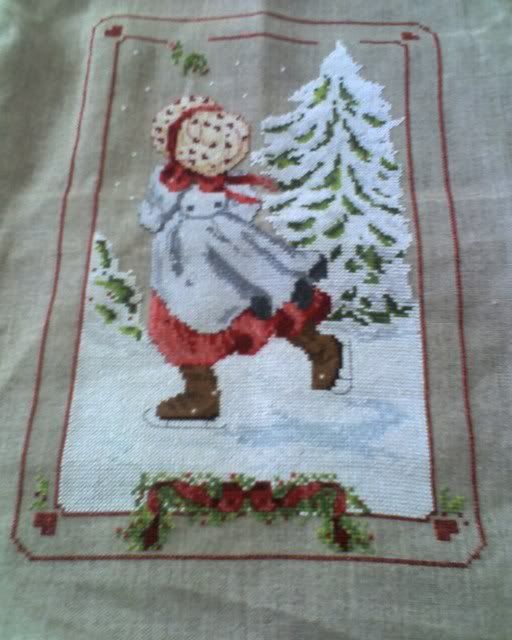 I have to admit, she was my least favourite of them to stitch, whether it was because she's the last one or whether there was an awful lot more stitching to this one than the rest, I don't know.
I finished her on Monday which was May Day Bank Holiday in the UK. I asked my friend Sue over for a stitchy session (she was also there to push me on, but don't tell her that). Anyway Sue brings all her stuff up in a box, a smallish box, a bit like a strong cardboard shoe box. When she takes the lid off, Jasper settles himself in it with a bit of a squash and a squeeze, but he manages. Anyway, when I put the last stitch in, I threw it up in the air, screeching like a barn owl, Jasp shot up in the air (she has two little claw holes in the box now), shot across the living room, started skidding at the dining table and stopped just short of the front wall ... the result, undignified panic ...
Then I ripped up the chart into little pieces!
To celebrate I had two shots of Cherry Sourz.
I started the HAED I've been wanting to do for ages!! I was so excited, although the frog did come to visit, sigh ... but it's all okay now and I'm enthusiastically stitching away! It feels really good to enjoy stitching again! I frightened myself about the size of it actually as I'm stitching her 2 over 2 but measured it and it'll be the length of Titania in her frame and a bit wider, so I'm okay with that.
Went to the cinema on Saturday night to see Next with Nicolas Cage, tt was flipping awful! Thank goodness we had reduced tickets. I put a large glass of wine in a sports bottle and took it with me, the girls in work find it bizarre - do you?! Must be me then ...!
We found Bec's earring at the dojo - whew!! Such a relief as they were pretty expensive earrings.
She's grading on Sunday, so please wish her luck! She's been working towards her brown belt for such a long time now, having to take a break when her spine injury started playing up, so I think this one will be extra special.