Gary had come in from work and was shattered so decided to have "a little hour" on the sofa. He put his head up one end and stretched out but the cat thought he was playing and sat on the floor at the side of the sofa watching his head, Gary scratched his head, then put his arm over his head, Jasp thought he was playing (I could see it in his eyes), he flew up on his back legs and batted Gary on the forehead (that's how big our cat is!) Gary jumped up in shock, the cat shot under the table for refuge and Gary said "What did you do?" It wasn't me it was Jasp! He couldn't believe it, apparently Jasp gave him a hell of a whack! He said his paw was icy cold. I was helpless! I couldn't move! The shock on his face!!!!
Here's the culprit ...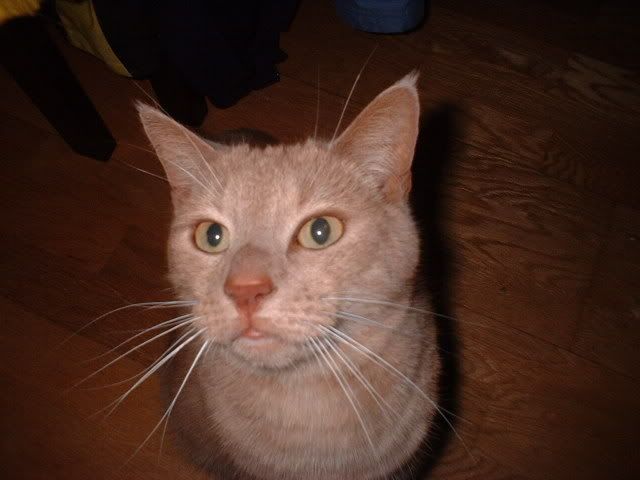 Butter wouldn't melt, would it?
Thank you all for your lovely comments in my previous post, most (if not all!) of you have asked what my HAED will be when I've finished the brat, I forgot to say! I wasn't being coy, honest! I've decided to do
Silver Moon Fairy
purely because she doesn't have a lot of colours in her so I'm not going to be bogged down with colour changes all the time, and she doesn't have a background either so I'm hoping that I won't lose interest and it'll get me fired up for all the others I want to do. I've decided to stitch her 2 over 2 on 28 ct, so the piece of fabric is humongous to say the least, (I nearly had a fit when I saw it, it's nearly the size of me!) Claire from Stitch Direct, bless her has started me off as I was too nervous to count across all that fabric myself so she put the first couple of stitches in for me, thanks Claire! She has assured me that it won't actually come out as big as me though, it was the only way she could cut it - whew! I'm lucky that she's a left handed stitcher like me, although we're both right handed for everything else, but when I opened it up, I couldn't work out why she'd stitched "right handed", took me a while to realise I was actually holding the fabric the wrong way round, hmmm.... I know, I'm quite a worry aren't I?