Well, it's been a hectic couple of weeks so I haven't had a chance to post. Hopefully it's all calmed down a little now though. Bec has been rehersing a lot for the Brangwyn Hall concert which took place on Thursday. Nerves were twanging that day believe you me! Anyway, although she wasn't sitting right in the front, her bright green violin was enough to catch my eye!! As soon as I saw her taking her position, I howled like a baby! Of course, if she'd have seen me, she'd have been absolutely mortified, I mean she's almost a *woman* now that she's all of 11 ...
Bec is a bit of a hoarder - so last weekend after work, I decided to blitz her room - blitz being the operative word here. It took me two days! I was nearly crying by the end of it, but now, WOW! That's all I can say! I threw loads out though, things that she'd grown out of (well, I gave those to my niece and my line manager in work) but all the junk, well - Gary had to make two trips to the tip.
Talking of Gary, he just sent me a text "Someone's thrown black paint over next door's front door." I'm currently sitting here in my pj's and couldn't resist, outside I popped, took a long look at next door's house, couldn't see anything and texted him back to tell him so. What has he just texted back? APRIL FOOL! The sod. I hate it when he's bored in work!
He had a puncture on Friday, just outside the Park and Ride car park (how convenient) and I saw him and Sue talking whilst he was waiting for the mechanic to come over with a spare tyre, I wound my window down as I was driving in and yelled "Caught you!" Sue's face dropped, Gary burst out laughing and the whole of the bus turned and stared at what could have been an good five minutes of entertainment. Those two are always texting each other and Gary's always winding her up, so I keep saying that they're having a torrid affair, Gary's known her father years before Sue and I started working together so they've always been comfortable around each other.
I haven't had much time to stitch these past couple of weeks, but here's a couple of progress pics: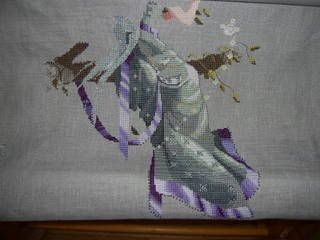 The brat is taking forever to get done, I really want to start a HAED next.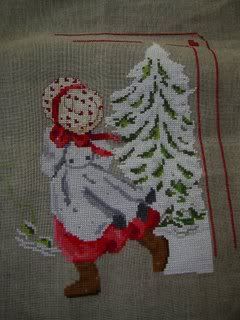 Over on the Stitch Direct forum, we've decided to do a new start over Easter, just to have a break from our rotations, so I've decided to start Just Nan's Mermaid Heart I know I won't finish it, but once the brat is out of the way, I can finish it up on weekends, so I'm not going to be overwhelmed by another one to add into my rotation, but it'll be nice to have a new start over the long holiday.