Hope you all had a lovely Easter! We had fantastic weather here which is so unusual for Bank Holidays! It was quite amazing!
Gary has been talking about getting a new mobile (cell) phone recently and has been shopping around for some deals. He finally settled on 3 Network and wanted to go into town to have a look at what the phones were like, of course, guess who also came out with a new phone?! Yep! Bec phoned me on Saturday (from my mother's house) and I couldn't hear her, after much phaffing about, I phoned Customer Services on the speakerphone and she talked me through some things, in the end told me to just go back and exchange it for a new one. Anyway, did that yesterday so fingers crossed, everything is fine. I have rather large thumbs (skinny fingers though) and as I text loads, I thought it best to go for a Motorola V3xx as the keys are quite wide and I like the brand, so I'm happy so far.
Saturday was wonderfully relaxing, my friend Sue came over for a stitchy session and I pegged my washing out whilst she was getting her qsnaps organised, Gary followed me out and he asked why we weren't stitching outside. Good idea!! We spent the entire afternoon out there - bliss or what!! I think that'll be me sorted everytime we have a great weather weekend from now on! I've never stitched outside before! It was a revelation!!

For those who have stitched outside before - why on earth didn't you tell me how great it is!!!
We decided to re-lay the laminate floor in the bedroom on Sunday, then he decided to paint the walls again. I didn't realise we had such bright yellow paint - honestly, bright was an understatement! I think we need a drop of white with that I said tactfully ... now we have a massive tub - very wide - of white paint, and a standard pot of yellow, what does he do? Put the white with the yellow not the yellow with the white - yep, all over the flaming floor it went. Plus, if he'd have done it the other way, we could have added the yellow to the white slowly until we were happy with the colour, now we have a bedroom only a couple of shades lighter than a yellow highlighter pen ... STOP LAUGHING!!
This is how far I got with Just Nan's Mermaid Heart ...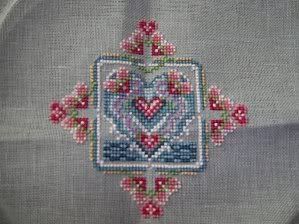 I'm going to pick it up the next Bank Holiday weekend which will be May Day, I don't want to add it into my rotation as I feel I have enough at the moment, particularly as I still have the brat to finish by next month.
I'm going to try and update every couple of days, so although there won't always be pictures, hopefully there'll be something interesting to read.