Busy week last week and next even busier. Bec's decided that she'd like to go for her brown belt in karate which happens in May, so she's really got to put the work in from now until then which should be twice a week totalling four hours, which is not a problem but then chuck in that she is also performing in the Brangwyn Hall on the 28th March in the Youth orchestra which is also having rehersals twice a week, then things get a little hectic. (Plus His Nibs is on afternoons this week and will be no help whatsoever when it comes to ferrying his little chick around either).
Bear in mind that this week is my Country Winter rotation (the one I *really* have to finish by May to get her to the framers so that she'll be ready in time for my mother's birthday in June - we are also on holiday in May/June too, so there's nothing like a bit of pressure to get wound up about it, is there?
This week I've been working on Middy - I *love* working on her and if I could just work on her straight through with no rotation, trust me, I would. But I'm being really good and giving the rest of "my girls" a chance so there's no squabbling when I'm not around. Here's this week's pic...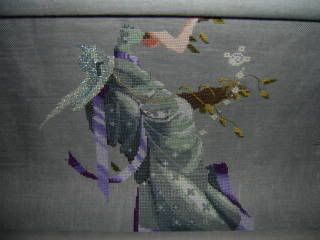 Whilst sitting in the car, waiting for Bec to have her violin lesson, I often take my knitting, this is what I've done so far (of course, these are *hers*)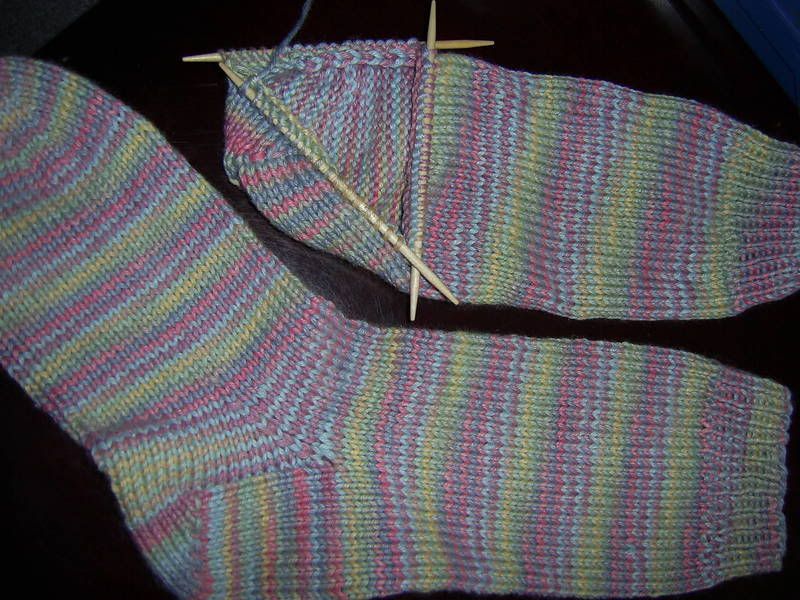 I had a bit of a nightmare with this yarn actually. I bought it from Posh Yarns who sold it as 4 ply, after much emailing back and forth, it turns out that it was 6 ply (or sports weight to my US friends). I couldn't work out why I was running out of wool when I was knitting it up on 2.50mm needles. When I changed to 3.5mm needles and less stitches, it started knitting up beautifully and is as soft as anything. I'm loathe to give them to her...
Thank you for commenting on my stepfather's socks, he absolutely loved his socks! I'm so thrilled! I think my mother needs a pair now, just to match the two of them up. I was going to make some for her for Mother's Day this month, but I don't think I'm going to have time, so she'll have to wait until June I think.