Since getting rid of Rebecca's original violin teacher, we've never looked back. She has a violin teacher that comes into school once a week to teach her (the one with wings and a halo by all accounts) who has now put her in touch with a young lady called Kathryn. Apparently they are going to work closely together so that between the two of them, Bec will have a nice continuity with both teachers (unlike Andrew who hated the fact that she was getting a freebie through the school and put her through hell for it).

Anyway, Bec has grown out of her 3/4 size violin now so we had to buy a new one which should see her through a couple of grades - she'll more than likely want to get a more expensive one as she progresses.

Wait til you see what we bought!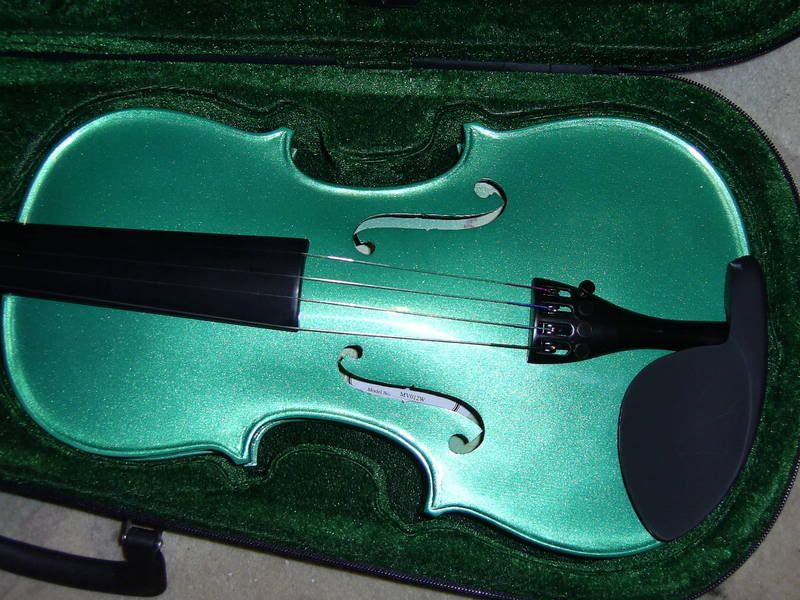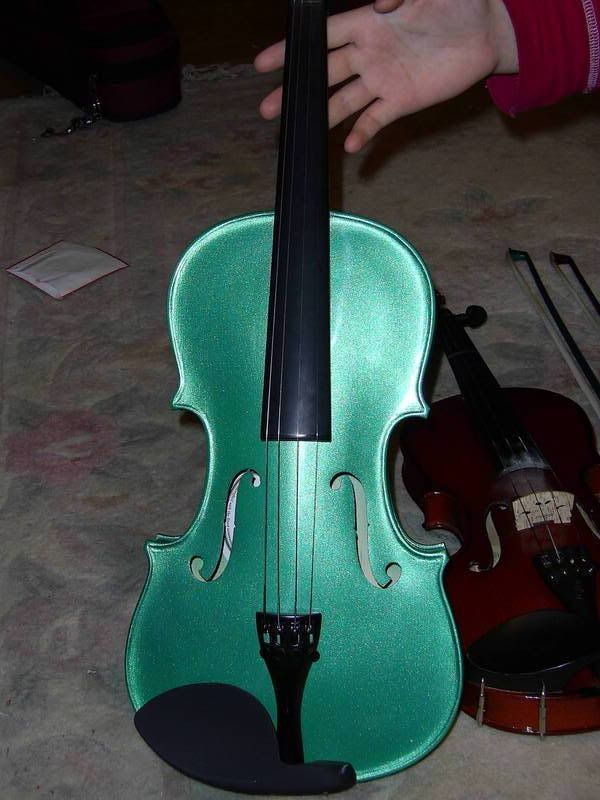 I thought best to phone her new violin teacher first (just to check she's allowed a coloured one, even *I* didn't think she'd have a green one!) I thought she'd go for a purple or blue, this one was the brightest of the lot.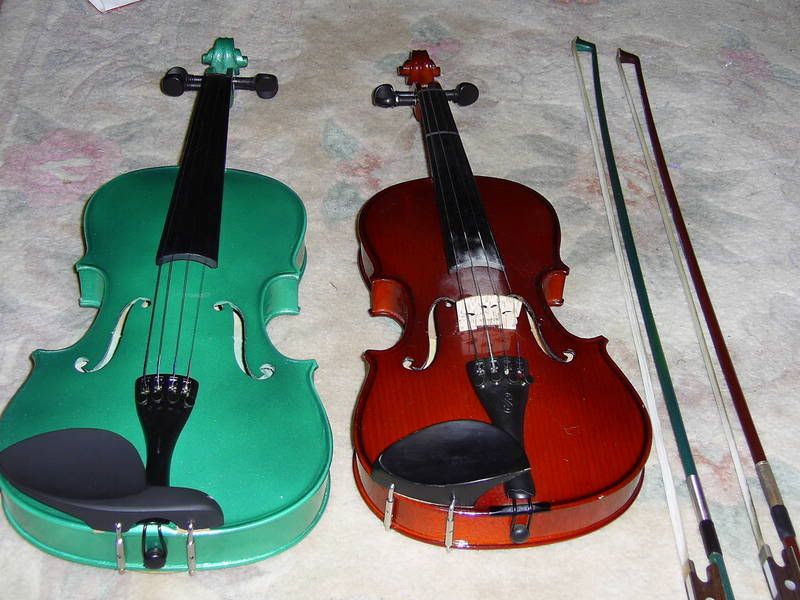 You can see the difference in sizes (plus if you look at the bows you'll see there's also a green one to match!)
After being tagged by Karen, I now have two questions to answer. The first is "Which is my favourite Stephen King Book?" Well that's a simple one to answer, "The Green Mile" hands down every time. It was a type of book that I never wanted to end, I could have just carried on reading about Paul and Brutal's time at the Boys Correctional way after John Coffey. I cried like a baby when I finished it.
The other question was "What household chore do I hate most?" That's another easy one for me, I hate cleaning Rebecca's room! She's such an untidy pup! If she's like this pre-teen, what's she gonna be like when she's a couple of years older?! I shudder to think! I do try to make her do it herself, but she just does the tip of the iceburg, I get under her bed, chuck out the rubbish from her drawers, put her clothes in the laundy (she does do some of this but seems to miss quite a lot too). She just collects rubbish and I have to blitz it all or I swear one day her bedroom will come crashing through the living room with the strain of all that rubbish!
I hope that's answered your questions, Karen! If you have any more (or if anyone else does) please leave your question(s) in the comments or via email and I'll do my best to answer them as soon as I can.
Bec has a really stuffy nose and chesty cough so we're off out in a bit to get something from the Chemist for her. When we come back it's back to knitting the sock, stitching Country Winter and then Peace Angel tonight.