Yesterday was my wedding anniversary, I've been married for 17 years, jeevery! (And they said it wouldn't last, ha ha!) I was 21, been living over the brush for about 14 months and we suddenly decided one cold November night to just "do it". By the end of January, we were hitched. As simple as that. I had 21 guests in the day and 260 for the evening reception. Yep, it was pretty good!
Last night, our dear friends, Karin and Nigel took us for a meal. I decided to take a night off from my psoriasis diet and just have what I fancied as a treat. (Of course, today I'm totally regretting it as I've already scratched every part of my inflamed skin raw to the point of it bleeding, but there you go, I enjoyed last night so it was worth it, but at least I know that the diet is working so at least I know it's working).
Anyway, as usual Karin and I got extremely giggly over the wine, we're both the same, total lightweights when it comes to drinking wine and we get very silly and girly which usually ends up with "the boys" trying to calm us down... and of course failing, heh heh heh! Now this is why I enjoy their company so much, whenever we meet up, we have a fine old time and you can guarantee at one point we'll be laughing so hard that one of us will have tears in our eyes and an aching stomach because of it. This particular story of was Karin's neighbour's cat getting his head stuck in some venetian blinds whilst doing neighbourhood watch from the window sill...
This week I've been working on my mother's birthday present which is in June. It'll be the final one in a series of four, which I'm grateful for now because I'm not keen on stitching on raw linen, plus I hate the way the chart has been set out. The key is on one side of the paper and the chart on the other which isn't usually problem but somehow when I open up the chart to check the key, it always seems to be upside down and on another fold so I end up opening the whole chart up and refolding it back to my stitching point again ... frustration usually ensues and don't get as much done as I really want to. I'll have to photocopy the key tomorrow in work, I think.
Anyway, here she is after a week ...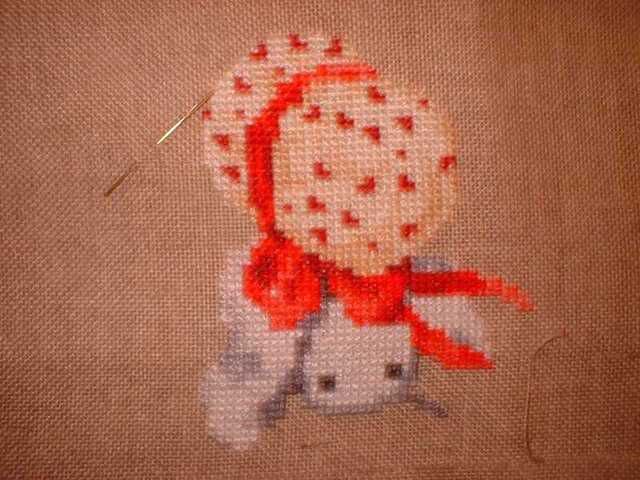 This week I'm supposed to be back on Peace Angel but still haven't started it yet. Claire is still waiting for the fabric to come in so I'll carry on with Country Winter and Royal Holiday for now. Country Winter has a deadline, none of the others so once she's done, I can catch up on Peace Angel or start something new, yay!