This week was the start of my rotation, I was supposed to start last week, but couldn't get on with 32 ct fabric. Claire at
Stitch

Direct
ordered some in 28 ct so we're just waiting for that to arrive and I'll be off "proper".
This week was Mirabilia week and I concentrated on the wings. Rather than do battle with the blending filament and braid in one needle, I decided to do the braid first and go over the top leg with the blending filament which slowed me down a bit as I was stitching twice, but I think it's saved me a lot of grief in the long run.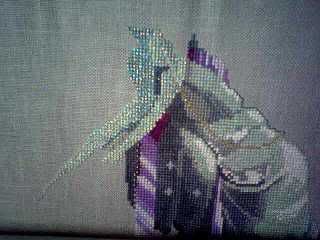 If anyone would like to join in our rotation, pop over to Stitch Direct Forum.

I bought some yarn last week from Posh Yarns Bec seemed to be lucky enough to snag all the ones she wanted all £30 worth ... but the feel of it is gorgeous.

(Front and back views)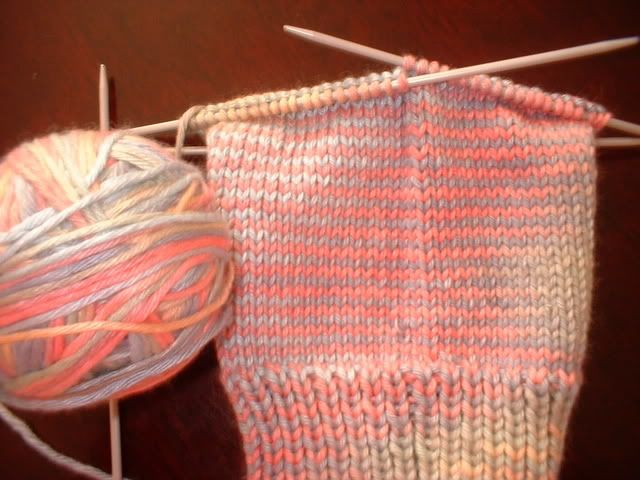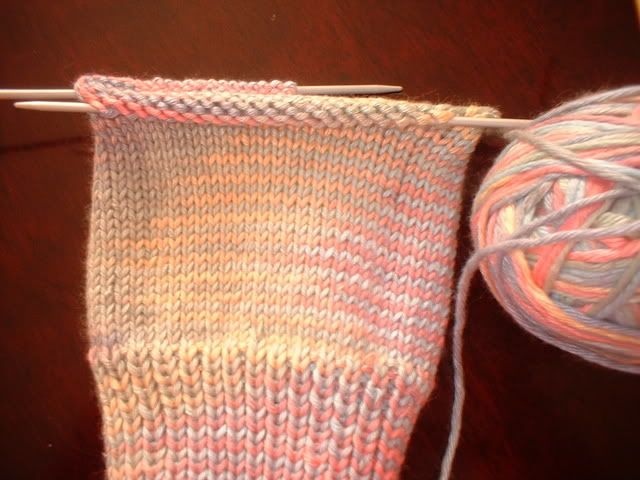 My "Psoriasis" diet is going well, I'm sticking at it and getting lots of encouragement from my family and friends. I've been reading the comments left on my blog about this and would like to thank you all for the encouragement, support and helpful tips left for me, I read them often and it gives me a lift (especially when I have PMT and want to eat a bar of Green & Blacks!!!) I'm feeling better for it as I'm making everything fresh and eating lots of fruit, actually, lots and lots of fruit! I think I'm turning into a fruit bat!

I've now totally detoxed from caffine and starting to enjoy black tea. I'm not overkeen on black coffee (I'd much prefer a "tall, skinny latte, with extra shot and extra hot, thanks" from Starbucks, or even better a grande egg nog latte), but there you go, I can't so I won't.

Talking about black tea, I called to my mother's house for Sunday lunch last week, and we always finish off with a cuppa in the living room. I was sitting on the sofa when she walked in and she went to hand me a cup stating that she wasn't sure which was which (I don't take sugar, she does). "Well mine will be the one without the milk ..." You should have seen her face! "I'll go and make you a fresh one then ..." She was so proud of herself that she'd remembered to make a decaff but totally forgotten that I can't drink milk now, heh heh heh!