Yesterday was my 40th birthday - sheesh! The amount of friends and family that made a fuss! I was happy to let it all slide by, but no, certain people who shall remain nameless would insist on making sure that the world and his wife knew how old I was ... yep, I had a banner on the house stating exactly who was 40 ... hmm!

I was totally spoiled though, had so much bling! Presents were coming out of my ears, which was all brilliant, I was like a kid on Christmas morning! It was so hard on Saturday night not to open anything when they were there, begging me to rip off various coloured wrappings.

My stitchy and knitty friends gave me some lovely hand dyed wool to fondle and drool over (pics when I decide what I'm going to make, so you'll have to wait!) plus this gorgeous mermaid ...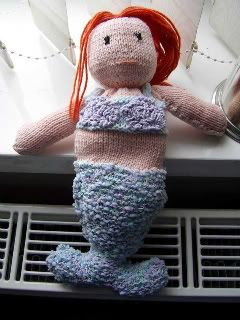 How cute is she? She'll sit on my bed and comb her hair every day for hours and hours, no doubt! Thanks Jules!

I also had the Lizzie Kate Double Flips which I'll make into this so I was thrilled to get them. Thanks Claire! She also bought me Stitchopoly. Sheesh! What will they think of next!