Tuesday started off pretty crappy, the Council have decided to put residents parking in the only two roads I can usually find a parking space (most of them are gone by the time I get to work) then I found a side road where I've been able to park for the past fortnight, but it's a fair distance from the office, but no matter, on Tuesday it was chocablock, sigh ... the Council want people to use the buses to get into town and have put Park and Ride car parks outside of town and the prices up on all the car parks. The cheapest ones are a maximum time limit of 3 hours and the NCP's are extortionate prices. I'd worked all day today and had to pop it into the NCP for the grand sum of £7.40, sheesh! Wednesday, I just had to have to conform and pay the Park and Ride fees. I'm gutted. No wonder people are going to Cardiff in their droves.
Anyway, Wednesday being Valentine's Day was no different to any other Wednesday, we've never really bothered about all that stuff, especially as our Wedding Anniversary is two weeks before and it's usually all out of our system by the 14th. No, not this year. Gary sent a lovely bouquet of flowers to the office ... I was totally gobsmaked and insisted that they were for another Nicola in the office! Nope, they're definitely for me!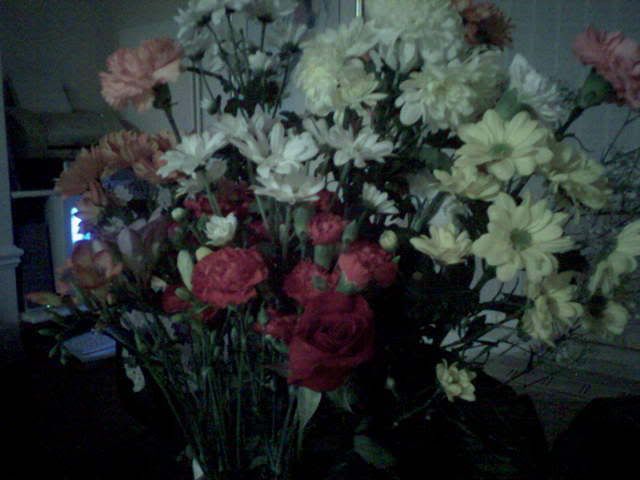 I phoned Gary to thank him profusely for my lovely flowers (and also for embarrassing the life outta me! He, of course, denied all knowledge of it to which I asked him if he was thinking of me whilst he was writing out the card for his girlfriend and I ended up with them instead ...
Then he asked if I was going on the Park and Ride, to which I confirmed and he said that he'd love to see my embarrassment as I walked all the way through the City Centre carrying in the flowers, then having to sit on a packed bus with them too ... OOO! What's he like?!
I've changed over to Country Winter so this is my Middy at the end of last week.